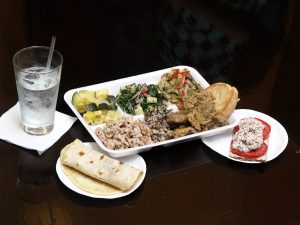 In the image above is everything that Chef Deena made.
Oyster Mushrooms – Chicken replacement.
Veggie Stir – Asian stir fry replacement.
WalnutMac – Mac & Cheese replacement.
Mash Chickpeas – Mash potato replacement.
Sauteed Squash/Zucchini
Red Quinoa with veggie stir – Rice replacement.
Butternut Squash Pudding – Sweet potato replacement
Walnut Tuna – Tuna replacement.
Kale Salad
Spelt Biscuits – Yeast/dairy bread replacement.
Chef Deena has prepared food for celebrities such as Eryka Badu (Female Music Artist), Carl Jones (Boondocks/Black Dynamite animation production) and even Pablo Medina (Dr. Sebi's Cell Food – Herbalist).

I finally met Chef Deena during my second visit to Dr. Sebi's Cell Food in Los Angeles, California. She made a lot of food. I enjoyed everything she made with two amazing things taking place. 1) I got to try what I had been waiting to try for a long time; someone's tuna replacement. Chef Deena's tuna replacement tasted just like tuna. 2)
I ate all that food and didn't get sleepy like I usually would if I ate a lot of food. My room refrigerator could not hold a lot of food, so I ate all the food that could not fit in the refrigerator that night. I thought it was a lot of food but I got through it in less than 30 minutes. My mother would probably say, "well you never did chew your food!" lol.
I also caught up with Chef Deena while she was in Virginia during graduation season since she was so close to North Carolina and I ordered about 30 pounds of her "Nuttin Like Tuna." I brought it back to Durham, NC and shared it with my community. I bought little containers, wrapped a label around them and divided them up among my associates so that they could also share with their friends. Everyone loved it.
Chef Deena is an incredibly wonderful person with a tremendous amount of LOVE in her heart. Her passion for health and Dr. Sebi's message is translated into her food preparation. Healing through food is definitely the way to go as far as Chef Deena is concerned. I am impressed enough to do all the I can to support her and promote her abilities and services. Quickly I wrote a song for her and had it completed in a professional studio.
I want many people of the world to know about Dr. Sebi, but I also would like for many people of the world to know about the very people who are doing things to help keep the legacy of his contributions alive. Even her best friend prepares food according to the African Biomineral Balance Nutritional Guide. These two people together had me trying all sorts of foods that were once my favorites foods with the meat category. It was an amazing experience that I hope thousands of others will have the opportunity to experience in the future. Veggie deli and cafes will soon open all over the country to offer food according to Dr. Sebi's Nutritional Guide. This can happen sooner the more people like Chef Deena receives support. Visit her website and commit to placing an order for something at least once a week.