TESTIMONIES          INQUIRES          FOOD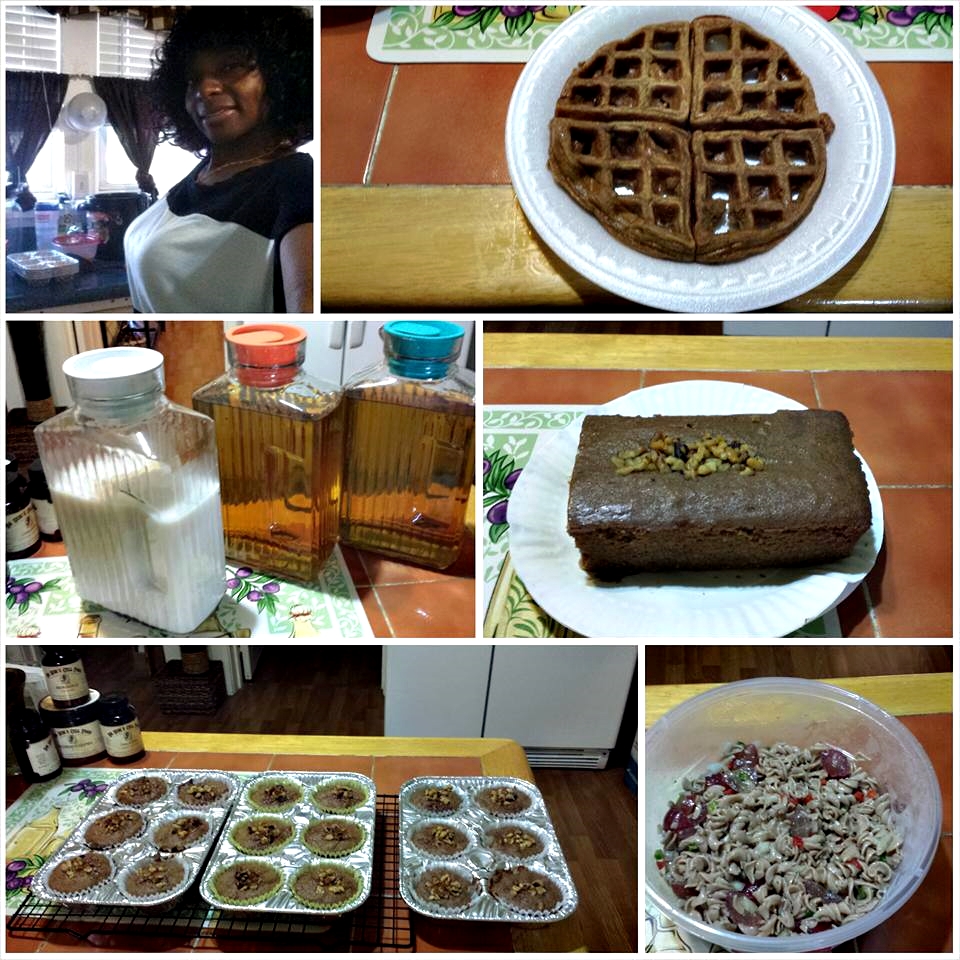 This is what my Saturdays usually consist of. Cooking for the day and prep for the next few days.
THE POST
Spelt Belgian Waffle:
2c spelt flour
1.5c walnut milk or spring water
1/2 cup of raw agave nectar
1 tsp bromide powder
1 tsp allspice
Walnut Milk:
1c walnuts soaked overnight
7c spring water
3/4c or more of agave to taste
Raspberry Ice tea infused with raw ginger and key limes.
Spelt Banana Walnut Bread Loaf:
2.5c spelt flour
3/4c agave
3/4c walnut milk
4 baby bananas
3/4c grapeseed oil
1tsp bromide powder
1/2 tsp allspice
Spelt Amaranth Walnut Muffins:
2c spelt flour
1c amaranth flour
1c agave
8 baby bananas
1c grapeseed oil
1tsp bromide powder
1/2tsp allspice
Vegan Pasta Salad:
2 boxes of spelt rotini
1.5c grapes
1/2c chopped onions
1/4c walnut milk
1/4c fresh lime juice
3tbsp agave
4tbsp sea salt
3-4 dashes of cilantro
1/2c grapeseed oil
Toss ingredients in a large bowl. Recipe accredited to member Ahrur Hu.
[129 likes, 50 comments]  SEE VIDEO
THE COMMENTS
Most of the comments express support and gratitude. Featured below are the inquires, a few of the compliments and replies.
Michael Ramsur: Where do you get walnut milk? Can I get hazel nut milk?
Aishah Aminah Wah: Nope I would have to disagree. My walnut milk is very tasty. I have not seen it in stores. You would have to make it. If your purpose is to follow the nutritional guide then hazel nut milk is not approved.
Debra Quash: All of it looks delicious! You could open a restaurant like no other!
Aishah Aminah Wah: Awww thank you Debra Quash. My husband has been telling me for the past 5 years that we need to open a resteraunt. Even when I was cooking dirty lol. I love to cook and bake.
Afrikanerbsman Urquhart-Sam: Do it open that restaurant, your foods look amazing.
Aishah Aminah Wah: Thank you brother Afrikanerbsman Urquhart-Sam. Your food pics look undoubtedly amazing!! This is small stuff. Next is to get to your level. I would be in heaven at your dinner table.
Charmaine Draper: Aishah Aminah Wah as
"Always" your presentations and recipes are amazing. Thank you.
Dee'Na Ball: Idk if you will ever understand how you are helping me and my babies! I immediately grab my notebook and pen when I see that you have posted! We're actually eating fried zucchini wedges tomorrow! Thank you so much!
Aishah Aminah Wah: Dee'Na Ball it makes me happy that you find inspiration in my posts. I am also glad that I can be of assistance to you.
Sheila Gulley: I'm going to make the raspberry tea. Do you have the ingredients? Thanks looks refreshing?
Aishah Aminah Wah: Sheila Gulley that was the beginning stages of the tea. It is darker in color because I sat the ginger in boiling water and date sugar to make a syrup. Then I added the syrup and lime to the tea. Yummy.
Althea Neely: Thank U so much! This group is so helpful and supportive, I thought I would never get 2 eat Belgian waffles again😀 I hope mine taste good 2.
OTHER POST BY AISHAH AMINAH WAH