-Dr. Sebi Cured By Fasting-
Sick and angry to the point of wanting to kill his wife, Dr. Sebi suffered from obesity, impotence, diabetes, asthma and suicidal tendencies. His frustration with impotency caused him to express his illnesses with his associates in hopes that someone could help. He sought remedies from African herbalists to the Chinese, alternative and holistic solutions; oh he tried everything. Eventually a friend of his by the name "Ronald Evans" called him on the phone and told him that he knew a Mexican that could help him. After Dr. Sebi and some of his street partners divided a large sum of money, he bought a car and was soon on his way to Cuernavaca, Mexico to see a 94-year old man by the name of "Alfredo Cortez" who had two wives.
He was cured. And since his experience, he committed himself to learning how to articulate what happen to himself by reading books. He never had the intention of digesting and learning from what he read in order to present himself as a knowledgeable person, but merely to be able to convey to people how they can be healed without the use of modern-day, medical industry chemical medicine. He begins his journey teaching how lactic, carbonic and uric acid are responsible for the amount of deterioration that occurs in the body. These three acids cause what they call uncontrolled mitosis. Starch is carbonic acid.
---
 Dr Sebi has stated that fasting will heal every part of you that you need to be healed. Fasting cleanses the arteries and eyes; it enhances the nerves, the cognitive state and continence or temperament. Dr. Sebi talks about how it lowers high blood pressure and he often speaks about a 21-day fast.
During his very own healing process in Mexico when he fasted, he reports being calm the first 7 days and then becoming dizzy every day after the 7th day on to the 15th day. He noted how he was so dizzy that he had to crawl to the bathroom on all fours for a whole week on his knees and hands; explaining how he couldn't stand up because everything seemed to be moving. On the 16th day he experiences a peace that he is unable to remember ever experiencing before. He noticed that he was no longer wheezing on the 27th day.
– Diabetes ~ Gone
– Two-year impotency ~ Gone
– Asthma ~ Gone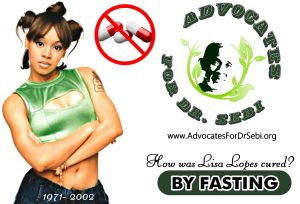 LISA "LEFT EYE" LOPES
Dr Sebi reports how Lisa Lopes came to him with severe eye twitching, smoking addiction and herpes (of which she did not inform him of until she was cured). Dr. Sebi recommended that she fast for 40 days and 40 nights. She drunk a mixture of juiced kale and bromide tea on her fast. Once Lisa was cured of all her illnesses she began promoting Dr. Sebi by holding lectures and organizing trips to Usha Village in Honduras for family and friends.
IMPOTENCE OR ERECTION DISFUNCTION 

Dr. Sebi addresses how all the fat that we have been eating over the years begins to clog the penis and prostate gland. Being impotent at age 30, he says he had an erection on his 29th day of fasting. Fasting gives the body the opportunity to drain itself of the buildup of calcification, cholesterol, triglycerides and the rest.
The orifice of the penis is spongy; it needs blood to flow but the orifices are clogged. Fasting will help it to drain out.
ASTHMA
Dr. Sebi reports how his asthma cleared up due to fasting.
ARTHRITIS
Dr. Sebi reports how he put his mother on a 52 day fast; consuming only water and his compounds. Afterward, her arthritis was gone and she was able to lift her arms above her head.
THE HEART
You fast to allow oxygen to reach the arteries, organs and blood.
For more on FASTING WITH DR. SEBI check out our audio bites.
---
If you would like additional information about fasting, be sure to look into a person Dr. Sebi spoke about named Arnold Ehret.
I have also selected two wonderful videos
covering the topic of INTERMITTENT FASTING. <— Click to see 1st video
THE 7 SIMPLE RULES of starting IF for fat loss:
It takes time to adapt to the fasting/feeding schedule.
Start with a longer feeding window. Gradually work up to a longer fasting period.
No food (calories) during the fast.
Don't push your workouts to extremes, especially in the beginning. Go intense after eating, or skip "IF" on the day you want to do an extreme workout.
Don't gorge when feeding. Do not overeat. Eat slowly to aid digestion. Spread meals out throughout the feeding window.
Avoid junk food and poor eating habits. "IF" will not negate the effects of these "foods." Get your nutrition from whole, nutritious, nutrient dense, high-quality foods.
Stay hydrated. Drink lots of water.
The task where healing must be accomplished is found in the pH balance in the body's blood. Immunology reveals that getting sick, acquiring diseases and bad microbes are due to a deficiency in the blood which affects the immune system. If the pH of the body is acidic, then it will strip the body of it's mineral nutrients and deprived the body's ability to have a strong immune system.
Keep in mind that during some healing or cleansing processes, you will need to get more rest than usual. Depending on your situation, you may need to prepare to endure what is referred to as the healing crisis; which in short means to expect things to get worse before they get better. This has a lot to do with why Dr. Sebi uses the terminology of "reversing disease," because during the healing process the body is known to re-visit each kind of pain, skin rash or disease that it experienced prior to the healing; all depending on how long the healing process is. Dr. Sebi has addressed at least eight things regarding the method of boosting the immune system.
THE METHOD
1. Fasting
2. Dr. Sebi Compounds
3. A Gallon of Water a Day
4. Exercise
5. Refrain from consuming detrimental foods
6. Eat according to a list of foods that Dr. Sebi has recommended. (Get The App)
7. Sleep (be kind to your body and get some rest)
8. Usha Village (or stress relieving practices)
If you plan to go to Usha Village you will want to use the methods listed from 1 to 7 prior to arriving in order to help condition you for the cleansing process.
Dr. Sebi's Cell Food has immune system boosting tea for people to purchase right now.
---
IRON
Dr. Sebi has made some very significant statements in reference to plant-based iron. It is impossible for you to get sick if your iron level is up to par. If you have a disease, no matter what kind of disease it is, you are anemic. Iron is the mineral that conveys oxygen to the brain. Iron should have carbon, hydrogen and oxygen. (the CHO chain). Iron is the spark plug of the human body. When you are deficient in iron, you are susceptible to a whole bunch of diseases. Iron fires the body up and is the only mineral on the planet that is magnetic. Being that iron is magnetic it has a tendency to pull other minerals to it. It pulls magnesium, zinc, gold, calcium, phosphorous, etc. It would be safe to say that when you take large doses of iron that you are taking all the other minerals. The lack of iron causes 40 manifestations of disease. Without iron, the body looses energy and the immune system begins to give way. There is no oxygen going to the brain when iron is low. Without iron, we wrinkle at a young age and no longer able to walk straight. The Burdock plant is rich in iron and has 102 minerals. The body naturally consumes or uses the amount of 3 table spoons of iron a day. Dr. Sebi recommends 2 table spoons 3 times a day.
Dr. Sebi Uses Iron the get rid of Sickle cell anemia.
SICKLE CELL ANEMIA
It is the deprivation of iron fluorine. Sickle Cell Anemia is when the blood plasma has broken down by mucous into a sickle. Mucous sinks into the plasma, into the cell itself, breaks and disunites the cell. Removing the mucous the cell unites again. To maintain that level, you have to feed the patient large doses of iron phosphate. Not ferrous oxide.
FOOD WITH HIGH IRON CONTENT
Sarsasparilla – Highest content of iron.
Sarsil Berry – Berry from the plant of the sarsasparilla.
Guaco – It's high in iron and strengthens the immune system. Has potassium phosphate.
Conconsa – An African plant. Has the highest concentration of potassium phosphate.
Lily of the Valley – Rich in iron fluorine and Potassium phosphate.
Purslane – Rich in iron.
Kale – Rich in iron.
Dandelion – Rich in iron.
Lams Quarters – Rich in iron.
Burdock – Rich in iron.
Blue Vervain – Rich in iron.
Yellow Dock – Rich in iron.
Chickweeb – Rich in iron
Anamu – Rich in iron